B hates everyone and everything. When she was forced into having a pokemon adventure, she pretty much takes her anger upon anything she sees. With Rat, a Cyndaquil she picked up at Elm's lab, by her side, she's ready to kick the world's ass.
Name:
B
Age: 19
Gender: Female
Pokemon she caught:
- Rat (Cyndaquil)
- Eyeplucker (Pidgey)
- Boo (Caterpie)
Bio:
B is the foul-mouthed, easily irritated protagonist of the story.
She hates exploring, she hates her mom, and she hates her life.
However, she hates everyone else's lives more. She is first
accompanied by Rat, a Cyndaquil with an IQ of an acorn, as they
go through the dangerous world of Pokemon, consisting of annoying
trainers, freaky red-headed boys who stalk professors, and grass..
lots and lots of grass.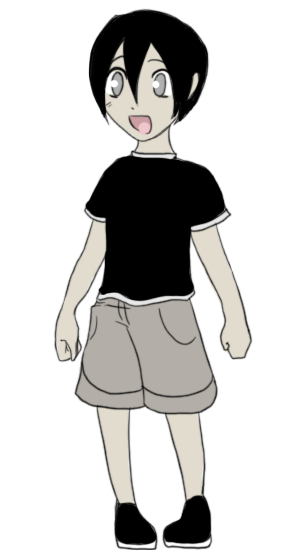 Name:
Dude-- er.. Guy
Age: 19
Gender: Male
Pokemon he caught:
- Rattata
Bio:
Guy is a happy-go-lucky guy who enjoys helping others in need.
He loves everyone and everything, especially when it comes to B.
He's been wanting to help her ever since when they were kids, but
she never wanted his help. Now, he's allowed to travel with her.
However, she tends to ignore him most of the time, so he's pretty
nonexistent.
More coming soon